July 24, 2018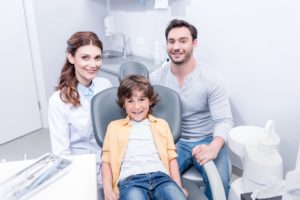 When it comes to choosing a dental practice to care for your loved ones, it is not as simple as asking Google, "Where is a dentist near me?" Everyone in your home has unique oral health needs, which constantly change over the years. Not to mention, your family deserves to benefit from the best services possible. To ensure that everyone's needs are met through high-quality dentistry, there are a few key things that you should look for when choosing a new dentist.

1. Qualifications and Experience
The services that your loved ones receive will be supported by the qualifications and experience of the dental team. In addition to earning their dentistry degree, look for a Vienna dentist who has undergone advanced training and continued their education to offer areas of specialty, like cosmetic dentistry, dental implants, or sleep apnea treatment.
2. Complete Services
Your life is busy enough when raising a family. You do not have the time to run to different dental offices to have everyone's needs met. To save you time without compromising the care that your family needs, choose a dentist who offers complete dentistry from one location. They will cater to the unique needs of young smiles while also offering advanced care for the adults in your home to maintain healthy teeth and gums.
3. Emergency Care
Although you never expect to face a dental emergency, one in six Americans is in this situation every year. To make a difficult time easier, choose a dentist who offers emergency services. They will be by your family's side during the stressful time to quickly treat the problem while stopping their pain.
4. Convenience
A day in your family's life is busy. To make scheduling appointments easy, choose a location that can accommodate your hectic life. With a conveniently located office and flexible hours, you will help to ensure that your family maintains their regular visits to their dentist in Vienna.
5. Reviews and Testimonials
To make the right choice for your loved ones, look for a dentist who is supported by extensive positive reviews. By reading the accounts of current patients, you will learn more about the quality of care that you can expect to receive from a dental team.
6. Advanced Technology
Now, the services that you receive from a dentist are complimented by the latest technological advancements, like digital x-rays and soft tissue lasers. This not only promotes the treatment and diagnosis process but also enhances their comfort.
Choose the Best Dentist Today!
When choosing a dentist for your family, do not pick just anyone. Take the time to research your options to make a wise decision for their smiles.
About Dr. Alex Naini
Dr. Alex Naini has made it her mission to give every patient a smile that as is as unique as their personality. She combines her training and qualifications with state-of-the-art technology to meet the needs of patients of all ages. With complete services under one roof, she provides the convenient and individualized solutions busy families need to maintain their oral health. If you need a new dentist, contact Aesthetic Dental Spa today to schedule your first visit.
Comments Off

on 6 Tips to Find the Right Dentist Near Me
No Comments
No comments yet.
RSS feed for comments on this post.
Sorry, the comment form is closed at this time.