Implant-Retained Bridge – Vienna, VA
Rebuild a Complete, Beautiful Smile
Each tooth is vital to a healthy, functional smile. Unfortunately, most people have lost a couple of teeth over the years. Not only can this affect your quality of life, but you're likely insecure about the appearance of your teeth. We can fill the gaps in your smile and replace each missing tooth using an effective solution. Besides traditional treatments, we offer the latest options using dental implants. You can enjoy the best dentistry has to offer for a nearly perfect replica of your natural smile.
Two Consecutive Missing Teeth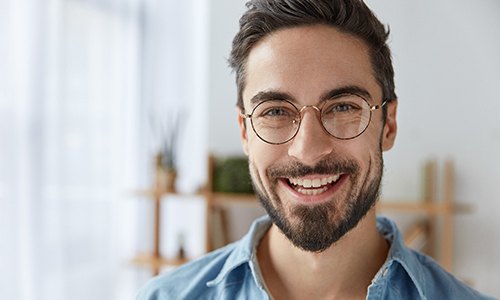 If you've lost two teeth in a row, a fixed bridge can close the gap. We take an impression of your mouth to recreate the teeth you've lost from all-ceramic material. The bridge is held in place by reshaping the adjacent teeth to bond dental crowns over them. You can restore your smile after just a couple of appointments, but you'll need to permanently alter healthy teeth.
As an alternative to crowns, you can hold your bridge in place with a dental implant. A titanium post is surgically placed into your jaw to act as a tooth root while securing your bridge. It doesn't rely on other teeth for support to preserve your natural smile.
Three or More Consecutive Missing Teeth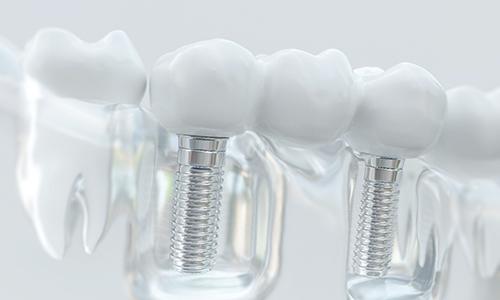 Three or more lost teeth can be treated with a traditional bridge and crowns. This allows you to regain your ability to chew, speak, and smile confidently. Your bridge will last for about 10 years before needing to be replaced.
If you want a more permanent investment, an implant post at either end of the bridge can support it. Dental implants are proven to last for decades with the right aftercare, so you'll never need to worry about paying to have them replaced.
Multiple Missing Teeth Throughout an Arch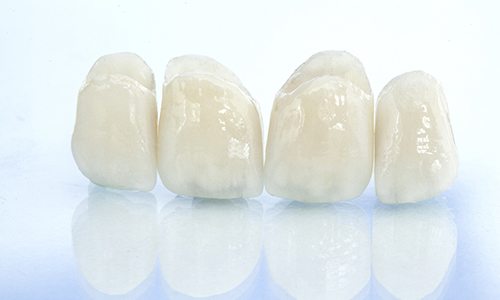 Patients who have experienced significant tooth loss have more options than ever to rehabilitate their smiles. Often, a partial is used to fill the spaces. Prosthetic teeth are attached to a metal framework and gum-colored base, which is held in place using your remaining teeth. Although they've undergone several improvements over the years, they will always have their limitations.
You can use single unit implants or an implant-retained bridge to substitute multiple missing teeth throughout an arch instead of a denture. With your jawbone supporting your new teeth, you'll enjoy a stronger biting force to eat a variety of foods for a healthy diet.
Benefits of Implant-Retained Bridges or Partials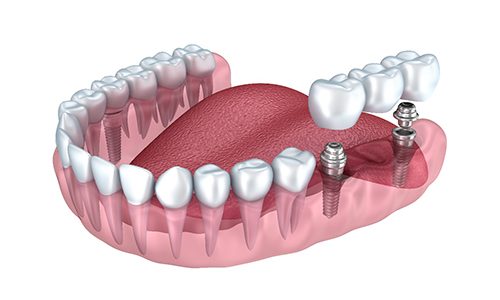 Since a dental implant mimics the entire tooth structure, it provides various advantages not possible using other treatments, including:
Over a 95% success rate.
Looks natural.
Regain 70% of your biting force.
Preserves your jawbone.
Doesn't rely on healthy teeth for support.
Stops dental drift.
Improves your oral health.
Long-term, cost-effective solution.
Schedule an Appointment
You don't need to live with the complications of multiple missing teeth. Contact our office today to schedule your consultation for a beautiful smile. We'll create the customized plan you need to treat your tooth loss.