Dental Implants – Tysons, VA
A Permanent Tooth Loss Solution and Beautiful Smile
If you've been living with any number of missing teeth, then you know that it can make life a lot harder. Thankfully, the interruptions you've endured to your normal routines can now be overcome with the placement of dental implants. When you visit us at Aesthetic Dental Spa, we'll guide you through every step of the process to ensure you're left with a safe, effective and attractive solution for your tooth loss. To turn your life around in a positive manner, contact us today to schedule a visit with Dr. Naini!
Benefits of Dental Implants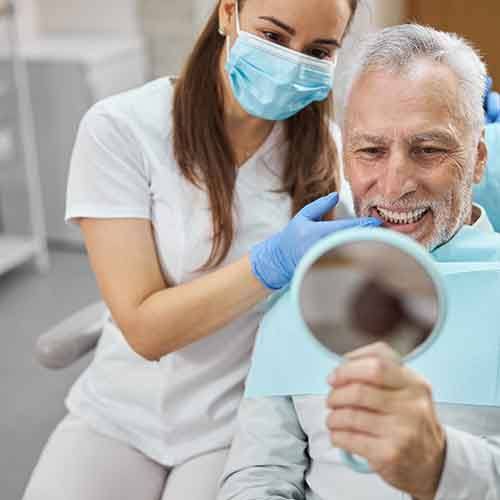 When it comes to replacing missing teeth, dental implant insertion is in a class of its own. Unlike any other form of tooth replacement, this procedure hinges on a titanium fixture being attached to the existing bone to create a lasting and sound solution.
Here are some of the additional benefits you stand to gain by having your smile restored with the dental implant procedure:
A natural looking smile
A self-sufficient structure
Usage of biocompatible material
With proper care, can last up to a lifetime
No damage to the surrounding teeth
Up to 75% of the original chewing capacity restored
To experience the many benefits of dental implants in Tysons, don't hesitate to contact our office to schedule a visit. Once Dr. Naini examines you and gives the green light to move forward, you can soon have the smile of your dreams!
Indications of Dental Implants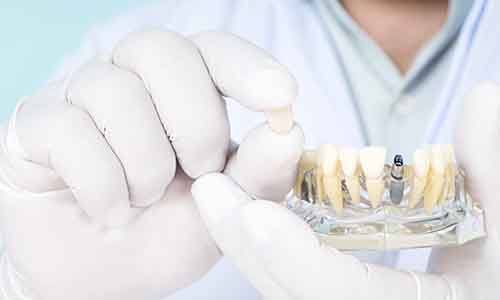 A key trait of the dental implant process that distinguishes it from other tooth replacement methods is that it can accommodate any number of missing teeth. The type of replacement option we recommend for you will depend greatly on the number of teeth you have missing.
Missing Single Tooth
Even if only one tooth is missing, it's still important to replace it. The reason is each of your teeth shares in maintaining the position of the others. Therefore, if a missing tooth goes ignored, there is a chance that the other teeth can begin to shift, which can result in bite imbalances and a greater chance of an oral infection. With the placement of a dental implant, abutment and crown, these challenges can be avoided.
Learn More About Single Tooth Dental Implants
Multiple Missing Teeth
The traditional method for replacing consecutive missing teeth is to receive a bridge, which consists of several porcelain crowns affixed to a single apparatus. While this is a viable option, with an implant-supported bridge, patients are able to enjoy even greater benefits. This includes having a secure placement without the worry of slippage or any related gum irritation.
learn More About Implant-Retained Bridges
Missing All Teeth
Whereas traditional dentures used to be the only option for replacing a full set of missing teeth, patients now have a better alternative. When you visit us at Aesthetic Dental Spa, Dr. Naini can custom design a set of implant-retained dentures that are permanently placed to restore your normal function and to allow you to perform your usual oral hygiene routine.
Additional Types of Dental Implants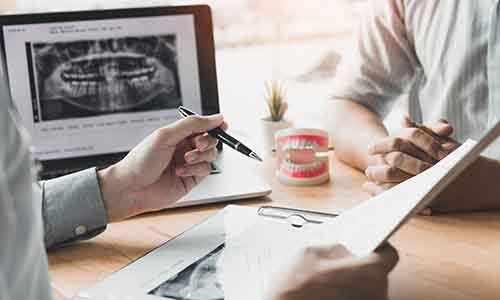 Because each patient is unique, there are several types of dental implants available to accommodate their needs. Here are some of the options we offer:
Root Form Implant – The most common type of dental implant, it's shaped like the root of the tooth and used for patients who have sufficient jawbone width and depth.
Plate Form Implant – This is used when the jawbone is too narrow or short for a root form implant.
Subperiosteal Implant – When jawbone material has diminished to the point that neither a root nor plate form implant will suffice, the subperiosteal implant is used. It is custom designed to overcome the existing limitations while still providing the benefits of dental implant placement.
Learn More About Types of Dental Implants
Understanding the Cost of Dental Implants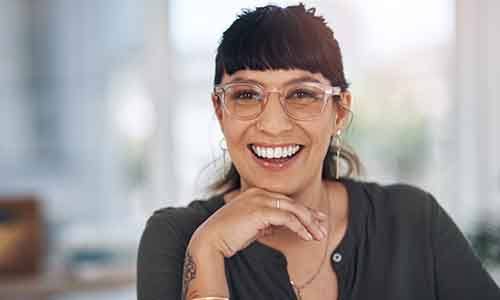 If you're like most people, you want as much information as possible about the dental implant process, so you can plan accordingly. One of the important details everyone wants to know is what the procedure will cost.
There is no set answer because of the level of customization that is involved in designing, fabricating and placing a dental implant. Also factored into the cost is the number of teeth you have missing, the condition of your oral health and the amount of jawbone mass that remains.
Finally, your cosmetic dentist in Tysons will itemize your treatment cost based on the three main components: the placement of the implant, abutment and final restoration. The best way to be fully informed about the dental implant procedure is to contact us to schedule a visit so you can be examined by Dr. Naini. Once we verify your eligibility, we'll help you achieve the smile of your dreams!
Dental Implant Aftercare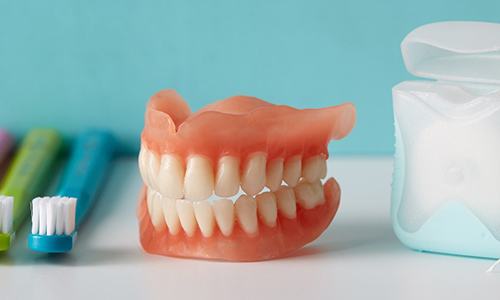 Dental implants are proven to last for several decades if you take the time to protect your investment. A proactive approach to your oral hygiene at home and regular visits to your dentist will ensure your new smile thrives. In addition, it's best to safeguard your dental implants from any potential damage using a few simple tips. We'll explain how to best care for your dental implants to prevent any unexpected complications.
Learn More About Dental Implant Aftercare
Dental Implant FAQs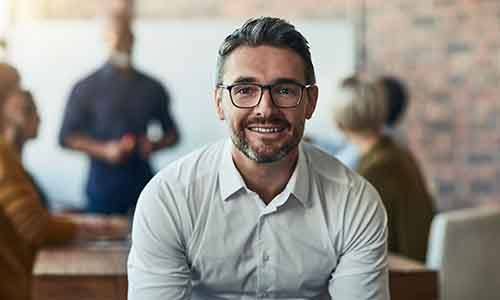 Do you still have more questions about dental implants that you'd like to have answered before scheduling a consultation? Below, we've answered some common questions we receive from our patients for your convenience.
Does dental implant surgery hurt?
Many patients wonder whether dental implant surgery is painful or not. The thought of going into any surgery can be daunting, especially if you've never done anything like it before. However, you'll be happy to know that before the procedure begins, we'll administer a local anesthetic to make sure that you can't feel any pain while you're in the treatment chair.
Most patients do report some tenderness and slight discomfort after their surgery, but it typically subsides within a week as your gums begin healing. You can place a cold compress on the outside of your mouth or even take ibuprofen to help ease your discomfort during this time though.
How many implants will I need?
The number of implants that you require typically depends on how many teeth you're missing. For a single tooth, you'll likely need one to support a crown. For two or more consecutive missing teeth, we usually place two implants to support either side of a bridge. Finally, if you're missing an entire arch of teeth, we can secure a denture using anywhere from four to eight implant posts. During your initial consultation, we'll examine your mouth and X-rays and determine what option would be best for you.
How long does it take to get dental implants?
Each patient has different needs, and the dental implant procedure accommodates them, which is why, depending on your specific case, your treatment timeline may vary. For example, patients who require preparatory procedures such as a bone graft or periodontal therapy have an added healing time, which makes their total treatment time longer. Patients who require more dental implants because they need a denture instead of a crown also likely require a longer healing time. At your initial consultation, we'll develop a customized treatment timeline to meet your special needs and discuss it with you so you know exactly what to expect throughout the process.
How long do dental implants last?
With the proper care and maintenance, dental implants can last over 35 years! That's four times longer than the average lifespan of traditional restorations such as dentures. All you need to do is keep up with your daily oral hygiene, visit our office for your regular checkups and cleanings, be careful while eating anything that's sticky or hard, and try breaking or cutting back on bad oral habits like smoking. With these precautionary measures in place, you'll be able to get the most out of your newly improved grin!
Are dental implants removable?
You can't take a dental implant out because it replicates both the root and crown. A titanium post is surgically inserted into the jaw to replace the root. Your jawbone will integrate with the post through a process called osseointegration. After your mouth has healed, only a trained dental professional can remove the posts. However, some implant dentures can be taken out for easier cleaning.
Am I too old for dental implants?
No, you are never too old for dental implants in Vienna because there isn't an age limit. While you can still be a candidate, certain age-related conditions or medications can make your surgery a little more complicated, like diabetes. Some medications can also affect your body's ability to heal and fight infections. If you take medications regularly or have pre-existing conditions, you may still be a candidate for dental implants. Your implant dentist will learn more about your medical history during your consultation to create a personalized treatment plan to replace your missing teeth safely and effectively.
How successful are dental implants?
A dental implant is the most reliable method to replace a lost tooth. With over a 95% success rate, a dental implant can last for decades with the right care; however, various factors affect its lifespan, like your oral health. Committing to your oral hygiene at home and visiting your implant dentist in Vienna twice a year is crucial to the success of dental implants. Your lifestyle habits are equally important. It's best to maintain a healthy diet and limit your consumption of hard or sticky foods and alcohol. Your dentist will advise against using your teeth as tools, chewing on inedible objects, and smoking. In certain situations, the placement of the dental implant can also influence how long it will last. Molars undergo more wear and tear than the front teeth, so they have a slightly higher failure rate.
How can I tell if my dental implant is failing?
Dental implant failure is rare, less than 5%, but it's important to remain vigilant for any signs of a complication, like pain near the implant. Any swelling or redness of the gum tissue can be a red flag. It's best to call your implant dentist immediately if you notice any of these symptoms. The sooner the problem is addressed, the more likely your dentist can save your smile.
What should I do if my implant feels loose?
After your jaw has fused with the post, your implant should never feel loose. Any instability indicates there's a problem, and you need a dentist immediately. While the issue might be as simple as a loose restoration, it can also be caused by something more serious, like infection or bone loss. If you wait too long to see a dentist, your dental implant can fail. In the meantime, do not wiggle the implant and avoid chewing with it until after you've seen your dentist.