Porcelain Veneers – Tysons, VA
Natural Solution for Stained Teeth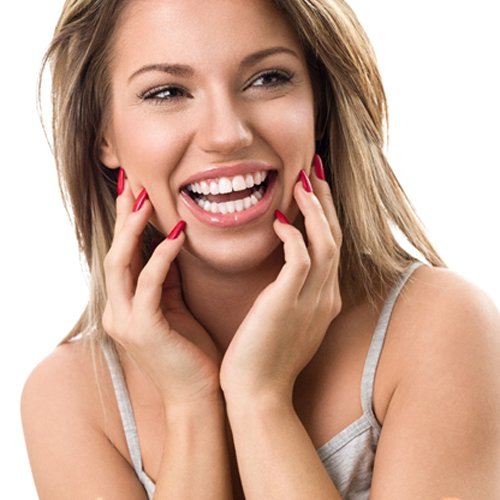 One of the most dramatic solutions to crooked, chipped, or stained teeth are the application of porcelain veneers in Tysons. With porcelain veneers offered in our Tysons dental office, a beautiful, straight, white smile can be yours in as little as two visits. If you're ready to get started on transforming your smile, contact Aesthetic Dental Spa today to schedule a consultation!
What Are Porcelain Veneers?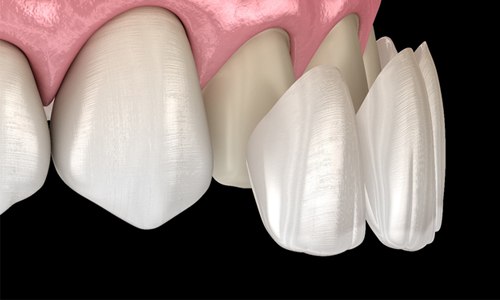 Porcelain veneers in Tysons are thin shells of ceramic bonded to your tooth. By itself, porcelain is a naturally delicate substance, but once it is firmly attached to your tooth it becomes amazingly strong and sturdy.
Porcelain veneers are commonly used to:
Repair minor tooth imperfections and defects
Correct crooked or overlapping teeth
Conceal stained or discolored fillings
Whiten and brighten teeth with permanent stains
Close the gaps between teeth
What is the Process of Getting Porcelain Veneers?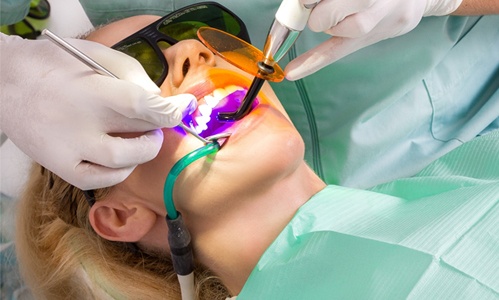 When preparing for porcelain veneers, the first step is to schedule a consultation with Dr. Naini. She will discuss your goals associated with veneer placement and begin to map out a treatment plan. Then, she will examine your mouth and begin to prep your teeth for your permanent veneers.
To do this, she will remove a small portion of the enamel from your teeth. Depending on how many veneers you receive will determine how many teeth she will need to prep. By removing some of the enamel, this will ensure the veneer lays flat against your tooth and the bonding agent properly adheres the two.
Before placing temporary veneers to provide you with an aesthetically pleasing appearance, she will take an impression of your mouth, which will then be sent to the dental lab where your permanent veneers will be created. The color, size, and shape will be discussed with you prior to creation.
Once the veneers are completed and have arrived back in our office, you'll return to have the temporary veneers removed and the permanent ones placed. She will ensure proper placement, and once she is satisfied with the look, a final polish will have you seeing a brand new, fully transformed smile.
What Are the Benefits of Porcelain Veneers?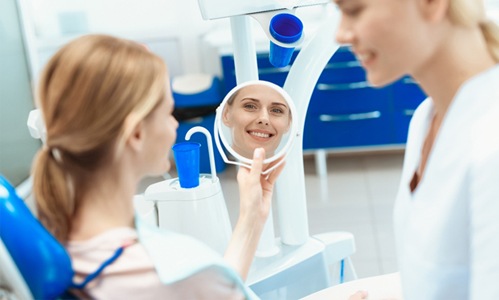 Porcelain veneers offer long-lasting, dramatic results and provide key benefits over other dental bonding procedures including:
Porcelain veneers are virtually indistinguishable from your natural teeth because they mimic the properties of your enamel by reflecting light only after it has gone through the surface, giving you a completely natural looking smile.
Porcelain veneers are remarkably stain resistant. Since porcelain is a ceramic, stain-producing products slide right off the surface just like glass. Red wine, coffee, and dark teas are three frequent causes of tooth staining, but with porcelain veneers, you no longer have to worry about the effect these substances will have on your smile.
Who is a Good Candidate for Porcelain Veneers?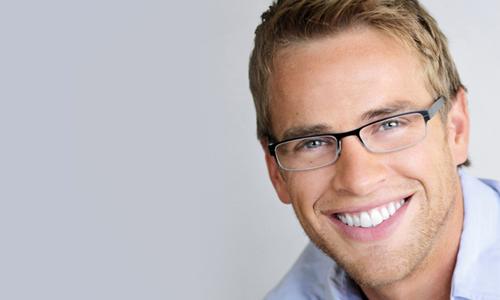 Individuals who exhibit good oral health are eligible candidates for porcelain veneers. It is important that any issues with tooth decay, gum disease, or missing teeth be addressed before receiving porcelain veneers. This is because once they are placed, they are permanent, and if you develop a problem that could potentially result in tooth loss or infection, it will shorten the lifespan of your veneers.
Porcelain veneers are a simple and effective way to significantly enhance your smile, boost your self-esteem, and improve your overall appearance. To learn more about porcelain veneers, please visit our commonly asked questions page and contact us today to schedule a consultation with Dr. Naini.
Understanding the Cost of Veneers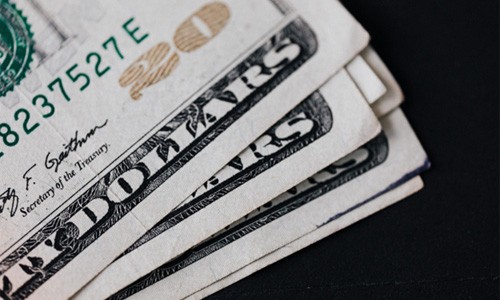 Veneers are associated with a hefty price tag, but they aren't only for the rich or famous. They are more affordable than you might realize. In some situations, they can be the most cost-effective method to create the smile of your dreams. Various factors will affect the amount you'll pay, but we strive to keep the cost of veneers in Vienna affordable for people from all walks of life. We'll create the personalized treatment plan you need for a picture-perfect smile that stays within your budget.
Cost VS Cosmetic Dentistry: What's Right For Me?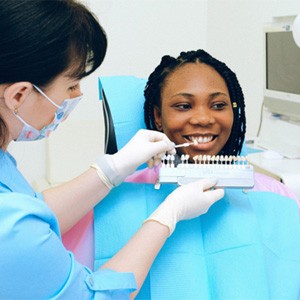 Every mouth and situation is unique, so there's not a one-size-fits-all treatment. You have more options than ever to address common aesthetic concerns, like discoloration, chips, or gaps. As a result, the amount you'll pay will vary based on the procedure you choose. Besides the cost, it's important to consider other factors, like the timeline and lifespan. After examining your mouth and learning more about your goals, your cosmetic dentist in Vienna will review which options may be right for you, which can include:
Braces: Braces can fix the most complex bite and alignment concerns, with treatments varying from 12 to 24 months. Often, they are partially covered under dental insurance, but it can be a long commitment if you only need to make minor adjustments.
Teeth Whitening: Whitening systems can get teeth up to 8 shades whiter when used on lifestyle and age-related stains. Results can last for many months or years with the right aftercare.
Direct Bonding: A composite resin can fix minor imperfections quickly. The material is shaded to match your enamel to blend in with your tooth structure.
Veneers: Veneers can correct multiple flaws simultaneously in as few as 2 appointments. You won't have to pay for several procedures or commit to a long treatment plan. Your new smile can last for a decade or longer with the correct maintenance, like brushing and flossing.
Your dental team will provide you with an estimate and review the fees associated with your treatment. Rest assured, you'll know exactly what you'll have to pay before agreeing to anything.
Alt: Woman at consultation for veneers
How to Make Veneers Affordable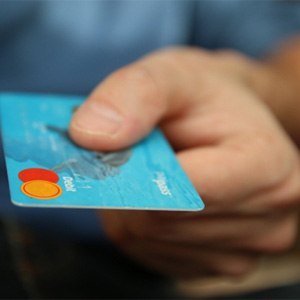 We will discuss all your payment options for veneers in Vienna to find the solutions you need to keep an attractive smile affordable. Our office accepts several payment methods, including:
Traditional Payments: We accept all traditional payment methods, including cash, checks, and credit cards.
Dental Insurance: It's unlikely dental insurance will cover elective treatments, but some cosmetic procedures also provide restorative benefits. If a service is necessary for your dental health, you may be able to use your coverage to offset the cost. We will help you maximize any appropriate benefits to lower the amount you'll pay.
Monthly Payments: Pay for your care using monthly installments through a third-party financing company. You can be eligible for little to no interest, based on your credit approval.
If you're ready to transform your smile, contact our office today to request your cosmetic consultation.
Veneers FAQs
Veneers in Vienna are a great option to correct many aesthetic flaws using one minimally invasive procedure; however, they are a long-term commitment. Your cosmetic dentist will explain everything during your consultation for veneers, so you have 100% confidence about the road ahead. In the meantime, here are the answers to the most frequently asked questions to help determine if they are right for you.
Are veneers permanent?
Veneers are meant to serve as a long-term solution, but they aren't permanent because they need to be replaced, eventually. While they don't last forever, they aren't considered reversible either. Your cosmetic dentist will need to shave off a small amount of enamel to promote a secure bond between your teeth and veneers. Although the etching process doesn't harm the health of your teeth, your enamel won't grow back. Therefore, your teeth will always need to be covered by restorations to protect them from preventable complications. You won't have to budget for replacements often if you follow your dentist's aftercare instructions, like brushing and flossing.
How many veneers will I need?
Your cosmetic dentist in Vienna can bond a veneer to a single tooth to fix a chip, crack, or discoloration. However, the goal of veneers is to improve the entire smile. Every mouth and situation are unique, but you can expect to need veneers on the teeth visible when smiling. Some patients only require 4 to 6, but other patients can need 8 or more. Your dentist will examine your mouth and learn more about your concerns to determine how many veneers it will take to revamp your smile.
How long do veneers last?
On average, veneers last for about 10 years, but it's not unusual for them to thrive for much longer. Various factors will affect the duration of your results, like your oral hygiene routine. Use a soft-bristled toothbrush and nonabrasive toothpaste to brush at least twice daily. Use high-quality floss to clean between each tooth at least once a day. Your dentist will recommend breaking any bad habits that can damage your veneers, like chewing on your fingernails or using your teeth to loosen bottle lids. It's best to avoid hard or sticky foods and limit your sugar consumption. Don't forget to schedule a cleaning and checkup with your dentist every 6 months.
Can I use my dental insurance to pay for veneers?
Most dental insurance won't pay for elective procedures unless they are medically necessary, which can be the case when needing replacements. Although it's unlikely your insurance will cover the cost, your benefits can be used for certain steps in your treatment, like a dental cleaning or gum disease therapy. A member of our team will work on your behalf to maximize any applicable benefits and explain how they are being used. They will also review your payment options for any remaining balance, like third-party financing. You can pay for your new smile using a monthly payment plan with little or no interest.