Teeth Whitening Tysons
Your Key to a Dazzlingly Bright Smile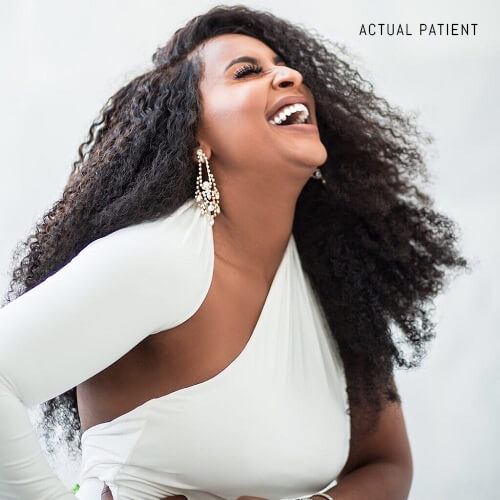 Everyone wants a bright, sparkling smile. Unfortunately, bad habits, aging, and trauma can cause our teeth to lose their natural brightness. Factors that contribute to the discoloration or dullness of your teeth include:
Drinking wine or coffee
Tobacco use
Old, worn fillings
Genetic predisposition to early yellowing or graying
Onset of gum or tooth disease
Dental trauma
Certain types of medication
Bright white and sparkling teeth can make you look healthier, younger, and more attractive all at the same time. Luckily, these days there are many available methods for whitening your teeth and achieving the smile you desire.
Dr. Alex Naini uses the latest dental technology from her Tysons dental office to ensure that you achieve the whitest, brightest smile you can imagine. She is proud to offer in-office teeth whitening to give you the smile you deserve in the shortest amount of time possible. In-office whitening procedures, such as BriteSmile, can fit easily into even the most hectic of schedules. With in-office teeth whitening, Dr. Naini will apply a whitening gel to your teeth and then align your smile with a full mouth exposure lamp to create maximum whiteness before sending you on your way home with an instantly improved smile and outlook on life.
For those with more time on their hands, at-home whitening is another option. Dr. Naini will design a custom-made mouth tray to fit your teeth and then, in the comfort of your home, you can apply the special gel to the tray and wear it for as long as is needed to obtain the desired whiteness.
Whichever tooth lightening procedure you prefer, Dr. Naini will ensure that your comfort and convenience come first. That's why Aesthetic Dental Spa is the place to go for all your dental needs.
Teeth whitening is a simple and effective way to significantly enhance your smile, boost your self-esteem, and improve your overall appearance. To learn more about teeth whitening, please visit our whitening FAQs page, and contact us today to schedule a consultation.