Vienna Invisalign: Your Clear Path to a Straighter Smile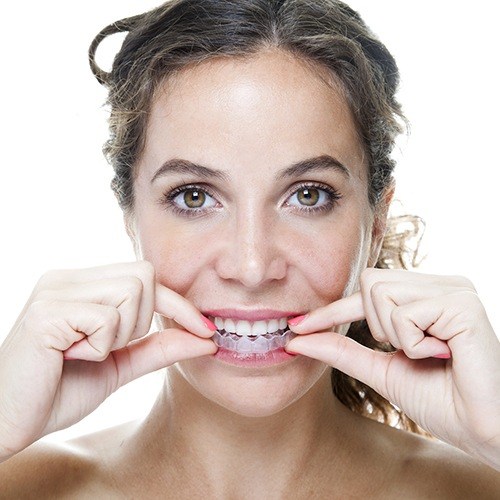 As an alternative to traditional braces, Dr. Alex Naini is pleased to offer the more modern option of Invisalign braces. Invisalign braces, like traditional braces, not only can dramatically improve the appearance of your smile, but it can also improve the function of your teeth and jaw as well.
Invisalign braces are customized, nearly invisible aligners that straighten your teeth millimeter by millimeter to achieve a straighter, more dazzling smile. Invisalign braces are an easy and comfortable way to straighten crooked teeth or teeth that have shifted over the years.
Using a combination of advanced technology and skills acquired through years of experience, Dr. Naini will design a set of Invisalign braces that are perfect for you. These braces are designed to be worn all day and only taken out when eating, brushing, and flossing. You will receive a new set of Invisalign aligners about every two weeks, and your total treatment time will be approximately 9 to15 months depending on your particular needs. During this time, Dr. Naini will monitor your progress regularly to ensure that your treatment is proceeding as planned.
If your teeth have shifted over time or if you just want a straighter smile, Dr. Naini can fit you with a set of Invisalign braces that will begin straightening your teeth today. With Invisalign braces, no one will be able to tell you are straightening your teeth, so you can begin showing off your new smile during, as well as after, treatment.
If you are interested in finding out what Invisalign braces could do for you, contact us today to schedule your consultation.