June 16, 2022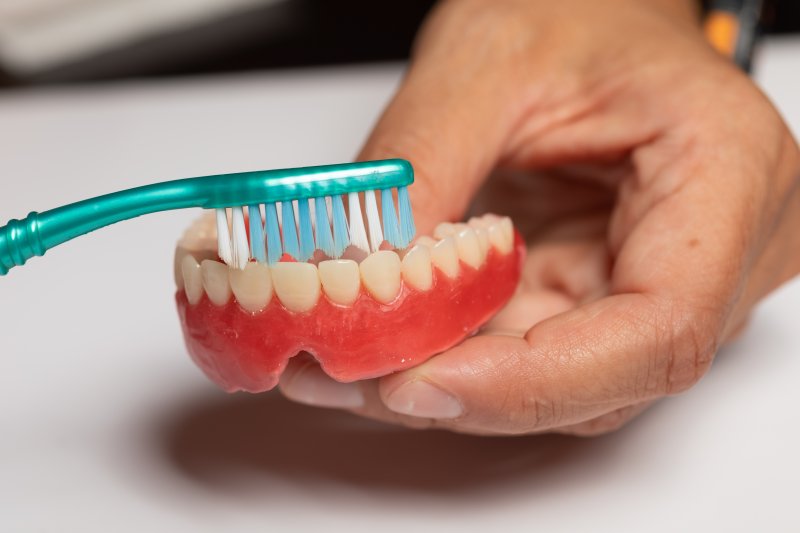 From severe decay to accidents, there are several things that can lead to tooth loss. Replacing them as soon as possible is key to preventing further issues, such as additional tooth loss and jawbone deterioration. If you lose several or all of your teeth, dentures are a great replacement option. These restorations have withstood the test of time and are still an incredibly popular choice. It's important to take good care of your restorations, so read on to learn about cleaning dentures.
Is Cleaning Dentures While Wearing Them Okay?
Though you can technically clean your dentures while wearing them, it's best to take the time to remove them to ensure that they remain in good condition. There are parts of your dentures, such as the area beneath the gum-colored base, that cannot be cleaned without taking them out first. For this reason, cleaning dentures while wearing them isn't the best method. Removing them allows you to get rid of all the plaque and food particles that build up on them during the day. This will let you thoroughly clean all the surfaces on your restorations.
How to Properly Care for Your Dentures
Now that you know why cleaning dentures while wearing them isn't the best way to do so, what is? Some tips on cleaning your restorations include:
Take precautions – Clean your dentures over a soft, folded towel or a sink full of fresh water. This will keep them from breaking if you accidentally drop them.
Remove – Take your dentures out of your mouth and rinse them off with cool water. This will help remove food particles.
Brush – Use a denture brush or a soft-bristled toothbrush and dentures cleaner or non-abrasive toothpaste to remove plaque and food particles from your restorations. If you use denture adhesive to hold them in place, be sure to clean that off as well.
Soak overnight – Once you've finished brushing your dentures, place them in a cup of cold, fresh water or a denture-cleaning solution to soak overnight.
Rinse them off – Before you put your dentures back in your mouth, be sure to wash them off with cool water. These will keep you from accidentally introducing potentially harmful cleaning solution into your mouth.
Cleaning dentures takes more time than with your natural teeth, but it's worth it to ensure that your restorations remain in good shape. This will allow you to prevent oral health issues and maintain a healthy smile for years to come!
About the Practice
Are you missing several or all of your teeth? Has your confidence taken a hit as a result? Aesthetic Dental Spa is here to help. Led by Dr. Alex Naini, they specialize in all things oral health, and that includes tooth replacements. They offer full, partial, and implant-retained dentures so you can choose which one is the best option for your lifestyle and your smile. If you're ready to schedule an appointment or want to learn more information about cleaning dentures, visit Aesthetic Dental Spa's website or call their office at (703) 827-8270 to get started.
Comments Off

on Cleaning Dentures: Can You Do It While Wearing Them?
No Comments
No comments yet.
RSS feed for comments on this post.
Sorry, the comment form is closed at this time.