May 4, 2022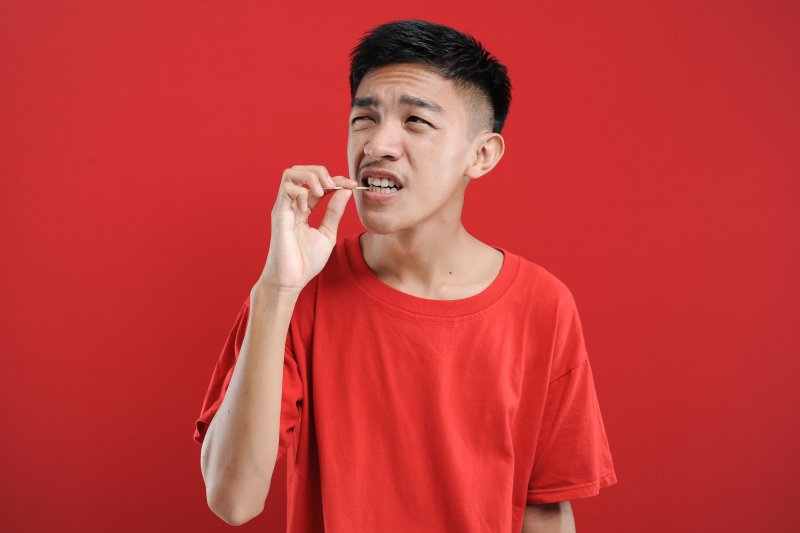 Do you have an object stuck between your teeth? While it isn't always the case, this situation can sometimes become a dental emergency, meaning you'll need to see your dentist as soon as possible. If this is something you're experiencing, you don't have to endure the situation for long. Read on to learn five ways you can free an object lodged in your smile!
Tip #1: Push Carefully with Your Tongue
The moment you feel something get stuck between your teeth, the first thing you should try is to push it out with your tongue. But you'll want to be gentle and not overdo it, as doing this can cause some jaw muscle discomfort. You can also risk certain negative conditions such as TMJ issues, chewing problems, and even changes in your speech pattern.
Tip #2: Floss with a Gentle Touch
One of the best ways to remove something stuck in your smile is to floss it out. Make sure to be careful when sliding your dental floss up and down, as you won't want to accidentally harm your gums in the process. Do this slowly, and even if it doesn't work the first few times, you'll always have other ways to handle the situation.
Tip #3: Munch on Crunchy Foods
Eating crunchy veggies is a natural way to get rid of food particles and debris in your teeth. Try snacks like carrot sticks or celery to help give your smile a useful workout. On top of clearing away dislodged matter, you'll also be able to enjoy a nutritious and edible toothbrush!
Tip #4: Use a Toothpick
Perhaps the most popular tool after a meal, using a toothpick can help free most objects in your smile. You'll want to be gentle while using this as well. This is especially helpful in combination with flossing and rinsing out your mouth.
Tip #5: Visit Your Dentist
If all else fails, then you should schedule a visit with your dentist. They'll be able to assess your oral health and effectively remove anything stuck between your teeth. After your appointment, you can be sure to enjoy a pain-free and clean smile!
With these few methods, you should be prepared to handle an object lodged between your teeth at any time! And if you need more help, don't hesitate to contact your dentist before it becomes a dental emergency.
About the Author
Dr. Alex Naini earned her dental doctorate from the University of Maryland Dental School, Baltimore College of Dental Surgery. She's also a proud member of several prestigious organizations including the Academy of General Dentistry, The Pankey Institute, and the International Academy of Comprehensive Aesthetics. With her passion for delivering advanced dental care, she provides multiple treatments, including checkups/cleanings and emergency dentistry. If you have an object stuck between your teeth and need assistance, feel free to visit our website or call 703-827-8282.
Comments Off

on Top 5 Tips for Freeing an Object Stuck Between Your Teeth
No Comments
No comments yet.
RSS feed for comments on this post.
Sorry, the comment form is closed at this time.