August 24, 2022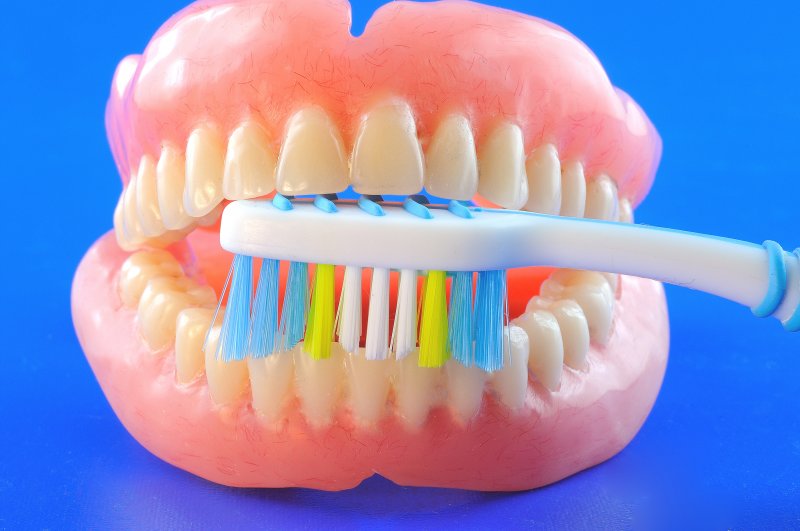 There is a range of ways that people can lose teeth. whether it's due to trauma, decay, or some other factor, it's important to replace them. Dentures are one of the most common ways to replace missing teeth and can fill in the gaps left by several pearly whites or all of them. If you get dentures, there are some major differences between caring for them and your natural teeth. Read on to learn about four tips for caring for dentures that will help you make your restorations last.
Tip #1: Brush Your Dentures Every Day
Some people may think that since dentures aren't part of your body they don't need to be cleaned like your natural teeth. even though they aren't your natural teeth, dentures still need to be taken care of to prevent oral health issues like gum disease. This means brushing them every night with a non-abrasive toothpaste and a soft-bristled toothbrush.
Tip #2: Soak Your Dentures Overnight
You should also soak your restorations every night to get rid of leftover food particles, plaque, and bacteria. This will also give your gums a break since wearing your dentures all day may leave them feeling a bit sore. Put your restorations in a clean glass filled with denture cleaning solution or fresh water. Let them soak overnight, and rinse them off before putting them back on in the morning to prevent the cleaning solution from getting into your mouth and irritating the sensitive tissues.
Tip #3: Handle Your Dentures with Care
Dentures are durable, but not taking good care of them may result in cracks or breaks. Be sure to clean them over a sink full of water or a clean towel so they won't break if you drop them on accident. This will prevent you from having to get a new set made, which may take a while and will cost you extra money.
Tip #4: Schedule Regular Dental Checkups
Along with the above tips, it's also important to schedule biannual dental checkups. This will give your dentist a chance to inspect your mouth and make sure that no new oral health issues have developed. It will also allow your dentist to inspect your dentures. If they're damaged, they'll repair them or have new ones made. Some dentists may even be able to professionally clean your restorations so you can leave with a fresh, clean smile.
Dentures are a great way to fill in missing teeth. Caring for dentures can take some getting used to, but the four above tips should make it easier for you to keep your new smile looking lovely for years to come!
About the Practice
Need to replace missing teeth with dentures? Has your confidence taken a hit as a result? Dr. Alex Naini and the Aesthetic Dental Spa are here to help. They specialize in all things related to oral health, including replacing missing teeth. They can teach you about caring for dentures and the proper precautions and techniques to use. If you're interested in making an appointment or want more information about caring for dentures, visit their website or call (703) 827-8270.
Comments Off

on 4 Tips on Caring for Dentures
No Comments
No comments yet.
RSS feed for comments on this post.
Sorry, the comment form is closed at this time.