December 4, 2021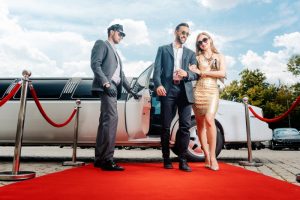 You might not have an agent or drive a Porsche, but you do have something in common with many celebrities. If you desire a smile fit for a Hollywood premiere, you and quite a few big stars are counting on Invisalign aligners!
After all, Invisalign is the least visible and most convenient way to straighten your teeth. Read on to learn about some benefits of Invisalign in Vienna and discover some of the celebrities who swear by its results!
How Can Invisalign Treatment Help Me?
Here are some reasons why celebrities have chosen Invisalign and why it could be right for you:
Invisalign decreases the discomfort for your tongue, cheeks, and gums that traditional braces can cause.
You receive aligner trays for several phases at one time, so you do not have to schedule nearly as many dental visits as people with traditional braces do.
Invisalign is easier to clean than traditional braces, plus you can remove it when you are eating.
Invisalign is clear, so it is almost impossible for someone to notice you are wearing it.
Depending on the complexity of your case, you could complete your treatment in as little as six months, but you'll begin to see results in a matter of weeks.
Your dentist can take a fast and precise 3D digital scan of your teeth and map out a custom treatment plan just for you.
Who Are Some Celebrities Who Elevated Their Smile with Invisalign?
Here are some of the famous folks who credited Invisalign aligners for making a positive impact on their teeth:
Serena Williams: Flashing her winning smile after so many tournament championships, Williams was 16 years old when she chose Invisalign to serve up terrific-looking teeth.
Tom Cruise: While taking his kids to their orthodontist, Cruise discovered his front teeth were not perfectly centered. He decided the fix would not be Mission Impossible for Invisalign.
Eva Longoria: Never happy with her overlapping bottom teeth, she depended upon Invisalign to realign them.
Katherine Heigl: The actress revealed that she turned to Invisalign for help prior to her wedding. Happy with the results, she called the aligners "Netflix for your teeth."
Zac Efron: Zac suffered from diastema, which is the scientific term for the gap between your incisors and molars when he was younger. He used Invisalign to correct that.
Khloe Kardashian: Upon first publicly acknowledging she used Invisalign, Khloe thanked her dentist. She had already straightened her teeth without anyone being the wiser.
These are just a few of the many celebrities who took their smiles to the next level with Invisalign. In fact, there's no telling how many famous people have done so, and no one except their dentists will ever know. You can keep a low profile with your Invisalign smile upgrade, too!
About the Author
Dr. Alex Naini's goal is to give every patient a smile as unique as their personality. She offers state-of-the-art dental treatments in a spa-inspired atmosphere to patients from the Washington, D.C. area and across the nation. Dr. Naini views cosmetic dentistry as science, art, and an enriching experience for her patients. Invisalign is one of her many tools to upgrade grins via trays she customizes for you, as it can be the remedy for crowded teeth, gaps between teeth, and bite problems. To schedule your initial consultation and get started, visit her website or call (703) 827-8282.
Comments Off

on Celebrities Who Entrust Their Fabulous Smiles to Invisalign
No Comments
No comments yet.
RSS feed for comments on this post.
Sorry, the comment form is closed at this time.