March 7, 2021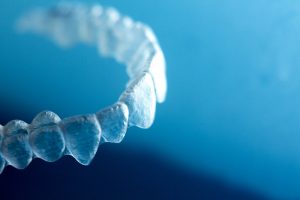 Have you lost one or both of your Invisalign trays? Maybe your child came home from school with bad news about their trays having gone missing. Either way, it can be a very stressful and frustrating feeling. Not only is Invisalign not cheap, but the longer you go without wearing the trays, the more prolonged the treatment process will be. Keep reading to learn what the next steps are if you find yourself in this situation.
So, You've Misplaced One or More of Your Invisalign Trays: Now What?
If you've lost one or both Invisalign trays, you're likely needing some advice on the next steps. Fortunately,  your Vienna dentist has some advice to share on the matter:
Don't Freak Out!
The moment you realize that you've misplaced something very important or costly, it can evoke a sense of panic. The first and most important thing to do if you find that you've misplaced your Invisalign trays is to stay calm so that you can think clearly and try to remember where you might have left them. In many cases, a clear head can help you retrace your steps to find your aligners before jumping to conclusions.
Call Your Orthodontist Right Away
If after conducting a thorough search, you are positive that your aligners truly have been misplaced for good, then it's time to get in touch with your orthodontist. The longer you wait to replace the aligners, the more time the treatment process could end up taking, due to your teeth becoming misaligned again. The likely next step will be them recrafting your aligners so that you can get back on track ASAP!
Now that you know what steps to take if you lose your aligners, it's just as important to know how to avoid misplacing them.
How to Avoid Losing Your Invisalign Aligners
The best way to avoid the stress of losing your Invisalign aligners is to be proactive in planning how to keep track of them. If your child has Invisalign, it is especially important to set them up with a game plan because many children can be very easily distracted and often misplace things. Here are a few tips to help you with this process:
Educate yourself or your child on the importance of keeping track of your aligners in order to instill motivation to do so.
You'll be instructed to wear your trays at least 22 hours per day, so try to schedule out the times each day that you will be removing them in order to avoid being in an unfamiliar situation when you do take them out.
Carry your case with you at all times so that you never have to wrap your aligners in a napkin when you take them out, as these can easily be thrown away.
When you travel, have a strict game plan about when you will be removing your aligners each day, where you will be placing them, and set alarms to help yourself remember.
There is obviously no shame if you do lose your aligners. It's an extremely common occurrence, and your orthodontist probably has hundreds of stories they could share about replacing patients' aligners. If you've misplaced yours, let them know as soon as possible so that you can continue with your regularly scheduled treatment!
About the Author
If you're considering Invisalign as a solution for a straighter smile, then look no further than treatment with Dr. Alex Naini. When it comes to cosmetic dentistry, she views it as true art, and nothing brings her more happiness than to give her patients the smiles they've always dreamed of. She is highly trained and educated, and her practice is built on long-lasting relationships and trust. Are you ready to talk about a straighter smile? You can schedule a consultation online or call (703) 827-8282.
Comments Off

on What to Do if You Misplace Your Invisalign Aligners
No Comments
No comments yet.
RSS feed for comments on this post.
Sorry, the comment form is closed at this time.