November 21, 2020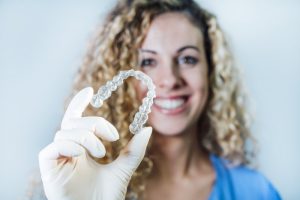 The end of the year will be here before you know it, and your calendar is likely filling up with last-minute holiday plans or events. Personal appearance and self-care are easily set aside during the busiest times of the year, and maybe you've been wanting a straighter smile for a long time, but just haven't talked to your dentist yet. The good news is, the end of the year is the best time to take the step towards a straighter smile with Invisalign, and your Vienna dentist explains why.
Here's Why Now is the Best Time for Invisalign
A lot of people don't even consider Invisalign when they think about the different ways that they can use their dental insurance for. If you want to be one of the millions of people who have their smiles transformed each year, you haven't missed your opportunity. Here's why the end of the year is the best time to talk to your dentist about Invisalign and make the most of your dental insurance benefits.
HSA or FSA
If you contribute each month to Health Savings Account (HAS) or a Flexible Spending Account (FSA), this is the simplest and most practical way to get the most out of your investment. Like most people, you probably have some unspent FSA dollars, so consider spending those on Invisalign before you lose them!
Coverage
You may have asked the same question that many others have: "Does my dental insurance cover Invisalign?" It is a common assumption that Invisalign is not covered by insurance because it is considered a cosmetic treatment. However, straighter teeth have been linked to overall oral health promotion, and as a result, many insurance companies now allow for some coverage when it comes to Invisalign. Check out what your plan offers and talk to your dentist about your options.
Deductible
Your insurance plan probably has a deductible amount that must be met before the company will cover the cost of the treatment. With more expensive treatments, such as Invisalign, it's much easier to meet that amount which will allow you to receive more coverage. It's also always a good idea to talk to your dentist about what payment options they offer.
Invisalign is not cheap, but it is still very affordable. While you're planning for next year and getting ready to close this one out, make time for your smile and give yourself the gift that keeps on giving with Invisalign!
About the Practice
Dr. Alex Naini leads the team of experts at Aesthetic Dental Spa. It is her priority to help each of her patients achieve the smiles of their dreams in a way that is convenient and affordable for them. Summer Creek Dental in Fort Worth. She is passionate about giving each of her patients the smile of their dreams in the most convenient and affordable way possible for them. In order to advance her skills and experience, she has taken hours of continuing education. This also has equipped her to be able to provide the most superior care. If you're ready to talk about straighter teeth, Schedule a consultation online or call (703) 827-8282.
Comments Off

on The Best Time for Invisalign
No Comments
No comments yet.
RSS feed for comments on this post.
Sorry, the comment form is closed at this time.