July 5, 2019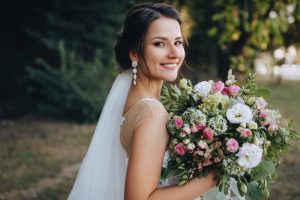 Your boyfriend (now fiancé) just surprised you by proposing while on an enjoyable dinner cruise along the Potomac River. You're overjoyed and elated that you can now begin planning the big day. Although it isn't for another year and a half, you know one of the first things you want to do is transform your smile. After all, you'll want to make sure you look your best in all those expensive photographer photos! Before your big day, here are 4 ways you can achieve a smile makeover.
Porcelain Veneers
If you're looking to hide the cosmetic flaws on your teeth, you can opt for a transformative solution – porcelain veneers. These ultra-thin coverings lay on the surface of your teeth, covering any imperfection and giving you a new and improved smile. Patients who choose porcelain veneers may wish to hide:
Crooked or overlapping teeth
Stained or discolored teeth or fillings
Minor gaps between teeth
Your dentist will be able to complete the procedure in two appointments, but remember, it can take time to craft your custom veneers. Depending on the number of teeth you will be covering with veneers, it can take anywhere from one month to a year.
During your initial appointment, your dentist will remove a small portion of enamel from your teeth to ensure the veneer lays flat against your tooth and the bonding agent adheres correctly. Before placing temporary veneers, she will take impressions of your teeth and send them to the dental lab so they can begin building your veneers.
Once they are ready, you'll return to have the temporary ones removed and the permanent ones placed. Your dentist will use a curing light to harden the bonding agent before giving your new smile a final polish.
Cosmetic Bonding
Patients who prefer a less invasive procedure can choose cosmetic bonding to fix minor cosmetic problems, including:
Stained or discolored teeth
Changing the shape or length of a tooth
Filling in gaps between teeth
Repairing chipped or cracked teeth
Cosmetic bonding is a great option for patients looking for a more affordable option, but it's important to know that this type of cosmetic procedure isn't long-lasting or as resistant to stains as veneers. This process can be performed much quicker than veneers, so if you find yourself desperate for help, cosmetic bonding is a great solution.
The procedure is completed in one appointment and uses a tooth-colored composite resin that is matched to your natural tooth color. Once it is placed and shaped onto the tooth, a curing light will harden it into place, hiding any and all imperfections.
Teeth Whitening
If stains and discoloration are the only things keeping you from a beautiful smile, teeth whitening can help. This simple and easy cosmetic procedure can be performed in-office or with take-home kits provided by your dentist. Should you choose to have your teeth whitened in the dentist office, you will see a noticeable difference in just one appointment.
If you prefer to whiten your teeth at home, your dentist can provide you with custom-made whitening trays and a high-grade bleaching gel. By following your dentist's instructions, you will notice a brighter smile in just a few weeks.
No matter how you decide to whiten your teeth, you should know it can last several months, but it will require frequent touch-ups if you want to maintain your results.
Smile Makeover
Patients who need a full makeover should begin to think about treatment more than a year in advance. Why? The reason is that this type of cosmetic dentistry requires multiple procedures, and if any require that custom pieces be created, you must factor in the time it takes for the dental lab technicians to construct your new smile.
A consultation with your dentist will give you a better idea of which treatments will be right for you and your timeline.
Remember, give yourself plenty of time to truly transform your smile. Don't wait until the last minute to make arrangements. It's your big day, and you don't want to be disappointed, so make sure to talk to your cosmetic dentist about a timeline before you begin.
About the Author
Dr. Alex Naini wants her patients in the Washington, D.C. area to have bright and beautiful smiles. As a cosmetic dentist, she views her work as science, art, and enriching for all who seek her expertise. Dr. Naini received her dental degree from the University of Maryland Dental School, Baltimore College of Dental Surgery before completing a residency at New York Medical College, Metropolitan Hospital. She received a fellowship at the University of Maryland and is a graduate and fellow of the Las Vegas Institute for Advanced Dental Studies. No matter the type of smile makeover you want, Dr. Naini and her team can help you achieve it. To learn more about us and our services, contact us at (703) 827-8282.
Comments Off

on Say Cheese: 4 Ways to Receive a Smile Makeover Before Your Big Event
No Comments
No comments yet.
RSS feed for comments on this post.
Sorry, the comment form is closed at this time.