February 9, 2023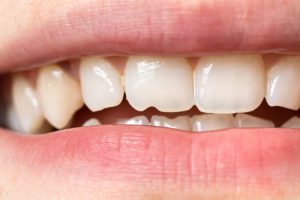 Few people have flawless teeth naturally. Besides genetics, poor oral hygiene, trauma, and lifestyle habits can also affect the appearance of your smile. Aesthetic imperfections can take many forms, but there are 5 common complaints your cosmetic dentist hears regularly. There are more options than ever to address popular concerns. Your dentist will create the personalized plan you need to revamp your pearly whites.
1. Stains or Discoloration
Teeth come in a variety of shades and tones naturally. However, they also change color over the years from age, diet, and certain habits, like smoking or drinking a lot of coffee. No matter the reason, your cosmetic dentist can turn back the clock.
Teeth whitening can improve surface and age-related by 8 shades and produce results that can last for many months or years. Although teeth whitening is effective, it can't be used on all types of discoloration. Instead, your dentist may recommend porcelain veneers or tooth bonding.
2. Chipped or Broken Teeth
Your teeth are protected by the hardest substance in your body, but enamel isn't indestructible. Chips and cracks can occur, which aren't just an aesthetic issue. They can also affect the health and function of your tooth.
You have many options to fix chipped teeth, like cosmetic dental bonding. A composite resin is shaded to match the color of your enamel to blend in with your tooth. Porcelain veneers are also a great option to fix broken teeth.
3. Gummy Smile
Excess gum tissue can make your teeth look short or stubby. Gum recontouring can reveal more of your teeth surfaces using a minimally invasive method. A soft tissue laser sculpts the gum line to make your teeth look proportionate for your smile. If you have one or two teeth that are smaller than average, bonding or veneers are also an option.
4. Missing Teeth
Losing a tooth can affect your self-esteem and quality of life. However, it can also have devastating consequences for your oral health. A dental implant is the most successful option to replace a lost tooth. It is the only method to replicate both the root and crown to benefit from the next best thing to a real tooth.
5. Crooked Teeth
Gapped, overlapping, or rotated teeth can affect your confidence and oral health. You don't need brackets and wires to fix your teeth. Invisalign is a discreet alternative that uses clear aligners to move them into position. If you need minimal adjustments, like closing a gap between your front teeth, veneers can close the space in just 2 appointments.
A beautiful, confident smile is within your reach. Cosmetic dentistry can give you a picture-perfect smile that you'll be proud to show off.
About Dr. Alex Naini
Dr. Naini earned her dental degree from the University of Maryland Dental School and has completed continuing education in many specialties, including cosmetic dentistry. She is a member of many professional organizations, including the American Academy of Cosmetic Dentistry. Request an appointment through our website or call (703) 827-8282.
Comments Off

on Solutions for 5 Cosmetic Dental Problems
No Comments
No comments yet.
RSS feed for comments on this post.
Sorry, the comment form is closed at this time.