October 30, 2018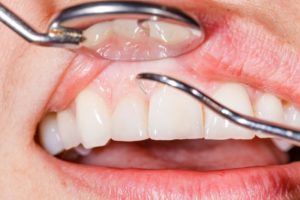 Over 30 million people in the United States have diabetes. This serious condition, if not properly managed, can lead to devastating consequences across the body. It even has an intimate connection with what goes on in your mouth; research has shown strong links between diabetes and gum disease. Because November is National Diabetes Month, now is the perfect time to discuss how this condition can affect your oral health and how periodontal therapy may be able to help you.
A Strong Connection
People whose diabetes is under control have the same risk of developing periodontal (gum) disease as people without diabetes. However, individuals with uncontrolled diabetes are at a significantly higher risk of developing gum disease. Uncontrolled diabetes may contribute to periodontal problems in a few ways:
Diabetes causes the blood vessels to thicken. Therefore, they cannot deliver nutrients or remove waste as efficiently as they should. This makes bodily tissues more vulnerable to harmful bacterial invasions.
People with uncontrolled diabetes may have higher glucose levels in the mouth. The bacteria that cause gum disease thrive on sugar.
The connection between diabetes and gum disease isn't a one-way street. Once an individual develops gum disease, they may find it more difficult to keep their diabetes in check. According to the American Dental Hygienists' Association, severe gum disease can also increase a person's risk for developing diabetes in the first place.
Protecting Your Mouth and Body
If you've been diagnosed with diabetes, a good overall health regimen is essential for protecting your gum tissue. With a healthy diet, regular exercise, appropriate medications, and assistance from your doctor, it may be possible to gain control over your condition.
Oral hygiene and regular dental checkups are also pivotal. Regular brushing and flossing help to keep harmful bacteria out of the mouth, and routine exams will allow your dentist to spot signs of gum disease in its earliest stages.
If necessary, your dentist may recommend that you receive periodontal therapy (gum disease treatment). Antibiotics, a deep cleaning of the mouth, and other therapies may be able to vanquish bacteria from your mouth and protect your smile from further damage. After your treatment, be diligent about attending follow-up appointments with your dentist. Doing so is important because diabetes slows down your body's ability to heal itself, so your dentist will want to make sure that your mouth's recovery is going well.
Have you been diagnosed with diabetes? You don't have to let your condition ruin your life or your smile. With good daily habits and close communication with your dentist, you may be able to keep your mouth and body functioning well for many decades to come.
About the Author
Dr. Alex Naini is proud to be your expert dentist in Tysons. She has undergone extensive training in her field and is able to address even complex dental cases. If you have been diagnosed with diabetes and are concerned about your gum health, she would be happy to help you. We invite you to contact our office at 703-827-8282.
Comments Off

on Diabetes and Gum Health: Do You Need Periodontal Therapy?
No Comments
No comments yet.
RSS feed for comments on this post.
Sorry, the comment form is closed at this time.