June 16, 2018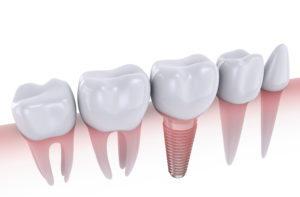 Have you lost some teeth? It's time to find a solution — and dental implants are far and away the best method of replacing one, two, or an entire arch of missing teeth in the upper or lower jaw. There are multiple methods of achieving this comprehensive replacement method, and each one comes at a different cost. Keep reading to learn about your options, and how much you can expect to pay for your dental implants in Vienna.
Different Types of Dental Implants
Below are some common types of dental implants that your dentist may recommend. The one that is right for you depends on how many teeth you are missing and how healthy your jaw bone is.
Root form implant: The most common type of dental implant, this is a post that is surgically placed into the area where the missing tooth's root structure once was. This type of procedure requires plenty of sturdy jaw bone structure for success.

Plate form implant: When there is not enough jaw bone present to anchor a traditional implant post, your dentist may recommend the plate form implant. The post is flat and surgically placed on top of the jaw bone.

Subperiosteal implant: This option is best when there is not enough jaw bone present to support a traditional implant or a plate form implant. They are made out of a metal framework that is surgically implanted on top of the jaw bone but beneath the gum tissue, sort of like a saddle.
Factors Influencing Dental Implant Cost
No two smiles are the same, and no two dental implant procedures are the same, either. The cost of your treatment will vary based on several factors, from the health of your jaw to which type of implant is being placed.
To determine the cost of Vienna dental implants, your dentist will factor in how many posts will be placed and whether or not you need to have a bone graft procedure performed first. The location of the missing teeth matters, too — it can be more costly to replace teeth in the front of the smile, as these require a more complex procedure due to cosmetic concerns.
No matter the cost of dental implants, they are worth the investment. You may be able to use your dental insurance coverage on certain aspects of a dental implant procedure, like the replacement tooth or preliminary procedures. Patient financing can also help you make more convenient payments on a larger bill.
The only way to know for sure whether or not you are eligible for dental implants and which option may be best for you if so is to schedule an appointment with your implant dentist. Don't hesitate to do so as soon as possible after or in anticipation of tooth loss — your smile deserves the very best!
Meet the Dentist
Dr. Alex Naini is a highly experienced dental implant dentist who has undergone significant advanced training at the prestigious Pankey Institute and the Las Vegas Institute. To learn more about this comprehensive tooth replacement option, you are invited to contact your Vienna implant dentist at 703-827-8282.
Comments Off

on Costs and Benefits of Dental Implants in Vienna
No Comments
No comments yet.
RSS feed for comments on this post.
Sorry, the comment form is closed at this time.