February 21, 2018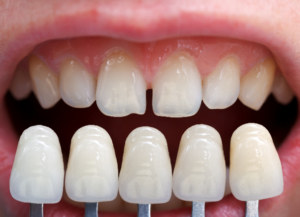 Are you tired of living with the insecurities from imperfect teeth? You are not alone. In fact, it is estimated that as much as one-third of adults do not like the appearance of their smiles. To restore your confidence, you have considered getting a smile makeover with porcelain veneers; but they can be expensive. As a result, you wonder if they are really worth the expense? Yes! You will achieve a drastic transformation with a long-term solution.

Transform Your Smile with Veneers
Porcelain veneers have quickly become a preferred choice to improve the appearance of the teeth. By placing the thin shells on their front surfaces, their size, shape, and proportion are instantly improved. They are quite versatile, allowing them to be used to correct a wide range of imperfections, including dark tooth discoloration, chips, and cracks. In addition, they can improve the look of abnormally shaped teeth while also hiding minor alignment issues.
Now, porcelain has become the preferred choice because it is thinner than other materials. As a result, the procedure is less invasive when compared to those of the past. Less of the tooth's enamel is removed during the bonding process, allowing you to maintain more of its structure. Not to mention, porcelain very closely mimics the appearance enamel to provide natural-looking results.
Invest in Your Confidence
Although it is an effective treatment, many are concerned about the cost of veneers made from porcelain because they are more expensive than other materials. On average, the cost can range from $800 to $2,000 per tooth; however, their benefits are worth the extra money.
Veneers made from other materials do not produce the same high-quality results as those made from porcelain. In addition, they will not last as long, allowing those made from other materials to be more expensive in the long run. With the right after care, porcelain veneers can fix your chipped teeth and other imperfections for as long as 10 years before needing to be replaced.
You can help to protect the longevity of your new smile by maintaining your oral hygiene by using nonabrasive products. While the veneers are strong and durable, it is best to avoid any habits that may cause them to chip or break, like using your teeth as tools. However, if one should become damaged, your dentist can easily replace it.
Get Your Dream Smile Today!
If you are ready to get the smile of your dreams, porcelain veneers can help. Invest in your confidence with an effective and minimally invasive solution.
About Dr. Alex M. Naini
Dr. Alex Naini uses state-of-the-art dental treatments to help her patients achieve healthy, beautiful smiles. Specializing in cosmetic dentistry, she combines art with science to improve the appearance of the teeth. She offers an array of services, including porcelain veneers. Dr. Naini will restore your confidence with an attractive smile using the most preferred solutions. If you are ready to transform your smile contact our office today to schedule your consultation.
Comments Off

on How Much Will My Smile Makeover with Porcelain Veneers Cost?
No Comments
No comments yet.
RSS feed for comments on this post.
Sorry, the comment form is closed at this time.