Cost of Invisalign – Tysons, VA
Making a Worthwhile Investment in Your Smile
Want to move forward with Invisalign in Tysons but are unsure how much it will cost? When comparing clear aligners to traditional metal braces, it's no secret that the latter is often more affordable; however, depending on your personal preferences and individual case, Invisalign might not be as out of reach as you think. When you schedule your consultation with Dr. Naini, she will discuss your goals and what you hope to achieve with the help of Invisalign. It is after she determines various factors that will she create a customized treatment plan and cost estimate for your new smile. Once you fully understand your dental needs, you will be able to make a well-informed, confident decision about the future of your orthodontic care.
What Factors Influence the Cost?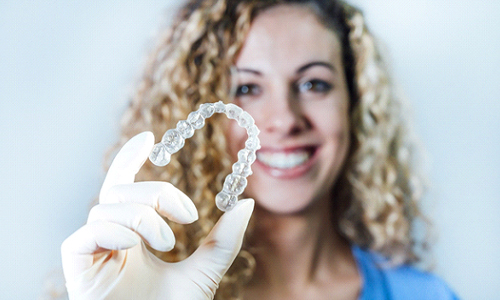 You may be under the common misconception that orthodontics cannot be customized. Although you may see individuals wearing what appears to be a mouth full of braces, in reality, they may only have brackets and wires on the teeth that are visible. The same can be said for Invisalign clear aligners. It is easy to assume that if you require this method of treatment, you will need them for both your top and bottom teeth, but that is not true at all.
Dr. Naini will examine your oral cavity and determine the type of care you need. This will give her a better idea of how best to treat you to achieve the desired results. This also helps to identify various factors that will contribute to your overall cost.
Some of these include:
How many clear aligners you will need throughout your treatment
How severe your orthodontic problem is at the start of treatment
Whether you will need a top or bottom aligner or both
If you require any pre-orthodontic dental work (i.e. tooth extraction)
Your retainer after Invisalign treatment is complete
Is It Worth the Investment?
If you take our advice, yes, the investment you make to receive Invisalign aligners will most certainly be worth it in the long run. But ultimately, it is up to you. Numerous patients have found great success with this clear orthodontic choice. Its many benefits make it a reliable and popular option for individuals with various issues (i.e. overcrowding, gapped teeth, bite alignment). If you are wondering what makes Invisalign such a great alternative to traditional metal braces, consider the following:
You'll be working toward a healthier smile without having to compromise your daily appearance
Invisalign aligners make it easier to maintain good oral health without having to maneuver around brackets or wires
Your aligners are easy to clean. A toothbrush, clear soap, and lukewarm water is all you need to remove dried saliva and harmful bacteria
Invisalign produces faster results than regular braces
You'll have a boost in confidence and feel better about the way you look in less time
What to Expect During Your Consultation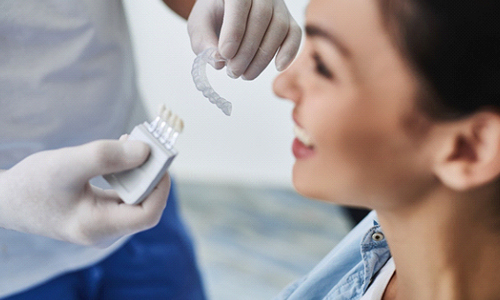 But if you're still wondering, "how much does Invisalign cost," don't worry. She will provide you with a clear cost estimate. This will allow you to determine how you can budget for your new smile. If you need assistance calling your dental insurance company or looking for additional ways to pay, our team of experts is here to ensure you receive the orthodontic care you need without depleting your bank account.